How To Choose The Best Guitar When Starting Out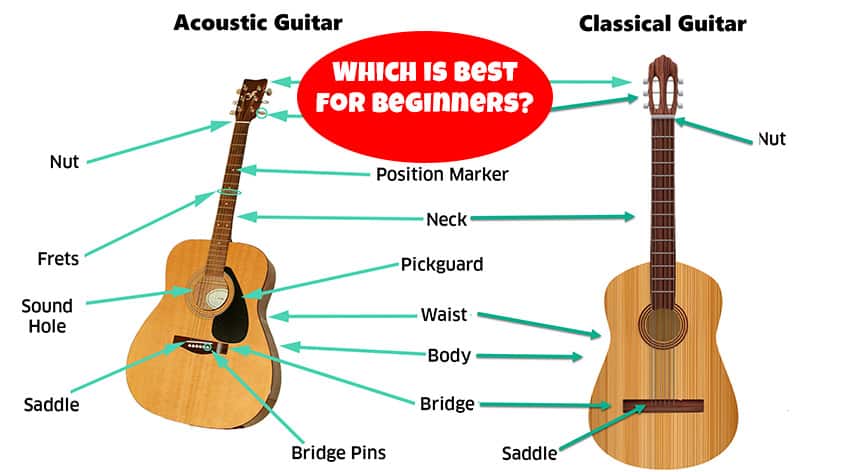 When you first learn to play guitar you may be faced with the decision on which of the two popular non-electric types of instruments to start out with. We'll call this choice… Classical vs Acoustic guitar.
I've found that many students don't know the difference between the classical and acoustic.  In fact many just believe that they are just synonyms for each other or that the acoustic guitar is the classical guitar and vice versa.
On one hand they are both actually "acoustic" guitars.  "Acoustic simply means a sound that is produced within the body of the guitar without the use of electricity".  
In practice they have come to refer to two different types of guitars. So then what is the difference between them and which is best for beginners?
What Is A Classical Guitar? 
To start off let's answer the question "what is a classical guitar?". Well there are two distinguishing factors distinguishing the classical vs acoustic guitar.
The first and most obvious defining factor is the types of strings that they use.
The classical guitar utilizes only nylon strings whereas an acoustic guitar is designed to be used with steel strings.
For this reason the acoustic guitar is frequently referred to as a steel string guitar, whereas the classical is referred to as nylon string guitar.
Nylon stringed guitars are very light and built with woods to emphasize resonance.  These guitars cannot handle the pressure that the steel strings would exert on them.
Don't put steel strings on a Classical guitar. Because the neck is not reinforced with a truss rod it is likely to cause the neck to bow over time.
Acoustic guitars,  frequently referred as a Folk, Dreadnought, Steel String or even sometimes referred to as just "the Acoustic", are designed to be used with steel strings.
Although it can be played with nylon strings, it will unfortunately not sound as good as if it was being played with steel strings.  The sound will be weak due to a inner construction that doesn't reproduce the sound of nylon strings well.
 With regards to my second point, classical or nylon guitars are much lighter and much smaller than acoustic guitars are, they're also shorter when standing up.
Classical Vs Acoustic Guitar 
Here is a basic summary of the differences between an acoustic guitar and a classical guitar:
           Classical                                                                                 Acoustic
        wider neck                                                                             thinner neck
        no truss rod                                                                         truss rod in neck
        nylon strings                                                                       metal strings
        softer, mellower tone                                                      louder, more resonant tone
        cut-outs in headstock ("string stores")                    solid headstock (no cutouts)
Styles Commonly Played On A Classical Guitar? 
Classical; many styles of Latin and Brazilian music; some pop, folk, and jazz as well.
Acoustic Guitar Styles 
The Acoustic guitar is almost universal in its uses, it spans across every musical genre, suitable for rock (Dave Mathews), folk (Bob Dylan), soft rock (James Taylor), and blues (Eric Clapton) even in more extreme genres such as metal.
Every musician/songwriter should own an Acoustic guitar, they're great for composing songs of any genre.  The Acoustic is especially useful at campfire sing-along because of its volume as well as lounges and bars.
You Need To Know About The "truss rod" 
The truss rod is there to counter the immense amount of pressure that steel strings place on the neck of the guitar.  Because the Classical utilize the much more flexible and lighter nylon strings which place minimal tension on the neck of the guitar they do not require a truss rod to counter the pressure.
Nylon Vs Metal Strings 
The "weak tension of nylon strings isn't enough to drive the Acoustic; the sound would be thin.  Nylon strings are designed for the smaller body of the Classical guitar.
On the other hand, if you were to put metal strings on a Classical guitar it is likely that the tension would pull the bridge up," bow the neck or even cause it to break over time. This is obviously a big no-no.
Which Is Best For Beginners? 
You probably realize by now that there is no right or wrong, but I will give you a basic summary to help you decide.
If you want to play pop rock or country music and are willing to go through a bit of pain until your fingers get tough the acoustic guitar is likely the best choice. It sounds more like the kind of music you want to play.
If you want to play either Latin styles or general folk style guitar the classical guitar may be right for you. The nylon strings will be easier on your fingers.
Unfortunately, if you have short fingers you'll find the neck is pretty wide.
For those who want to play classical guitar there really is no option but a classical guitar.
If the guitar is for child or someone with small hands I usually recommend a smaller student guitar with nylon strings. The neck is the thin and the guitar is easier to hold. These guitars are commonly called 3/4 size guitars or student guitars.
I hope this helps you to choose the right guitar for you concerning classical vs acoustic guitar.
If you are taking guitar lessons I'd encourage you to ask your teacher which they would prefer you learn guitar on. Keep in mind that you can always change guitars or even buy a second guitar.
I like to have each for different situations and different styles of music. Above all have fun and go with what inspires you.