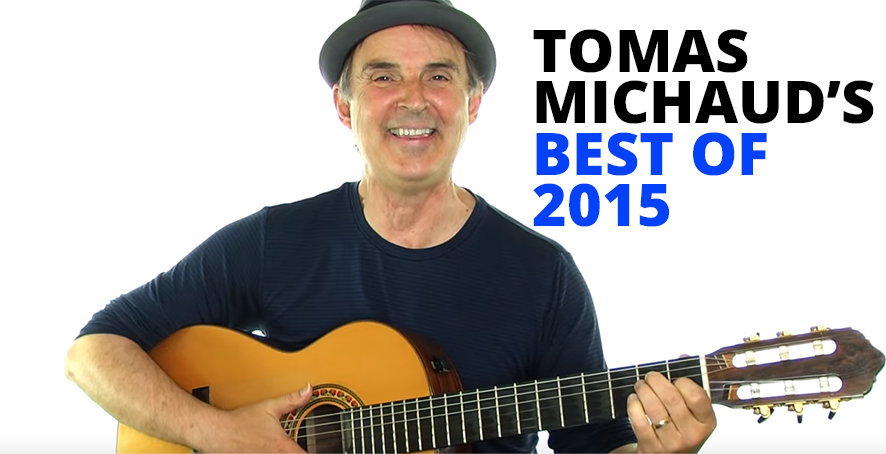 MESSAGE  FROM  TOMAS
I've selected these 10 lessons based on a combination of requests that I've received, which have been the most popular, and what I believe to be the most useful based on my many years of teaching experience. In these 10 lessons, I'm giving you what I considered to be some of the most valuable advice that I have to offer for the guitar student.
I've included a variety of subjects… fingerpicking, Spanish guitar, rhythm, chords, theory, etc.  But most importantly I'm attempting to impart to you what I considered to be the most important aspect of playing guitar. That's the mindset of how to be successful at expressing yourself musically. This is something that's taken me years and years to really understand myself.
Of course, it's fun to learn some new techniques. I'm always up for learning something new. But I've found that the real magic in learning to play the guitar comes from feeling a sense of accomplishment, getting better and better, and feeling like you really can express that music that's inside you.
Now you have a choice. You can just brush through all these lessons with a little bit of attention like we do most things in our life, or you can put your heart and soul into at least some of these lessons and really get the value that I put into this. If you do that, if you put a little extra attention, it will pay for itself many times over.
You see, each of these lessons has a little bit of what I've learned over the past forty-plus years of both learning to play guitar and how to be the best of who I am. I want to encourage you to choose to get maximum value. If you do, it will start to become a habit and it will affect everything that you do.
I'm not saying you have to be the best guitar player as in comparing yourself to other people. What I'm after is that you're the best that you can be. If that's playing simple chords and simple songs, then that's what I want for you. If it's playing with a band or even just jamming with other people (which is a lot of fun) then that's what I want for you. Whatever you see yourself doing, or want to see yourself doing, that's what I want for you.
You'll see throughout these lessons that I've not only included where to put your fingers and how to effectively play the different techniques. I've also included tips on how to think about playing the guitar, how to practice properly, and how to have the right mindset to be successful. You see I want you to experience being the best you can.
I know you can do this.  You see I'm nothing special. As a matter of fact, in the range of talents, I'm probably somewhere in the middle. I want you to be able to play even better than I do. In fact, perhaps even teach others.
Go ahead and choose whichever lessons you think will best benefit you at this particular time and place in your development. I only ask that you put your heart into it and see what you can really do.
I want to ask you also to leave me a comment.  Please tell me which lessons you like the best. I'm always open to suggestions on some new lessons for the upcoming year.
Thank you for being a part of my musical community. I'm honored to be your teacher. Now get on with the lessons and go out there and make me proud.

Tomas Michaud
Guitarist, Recording Artist, Guitar Success Coach
---
The number one song I've been asked to play at performances is this traditional Spanish guitar classic.  Learn this fairly easy version of Malagueña on guitar using your fingers. It can be played on a steel-string guitar… but sounds very authentic on a nylon (classical) guitar.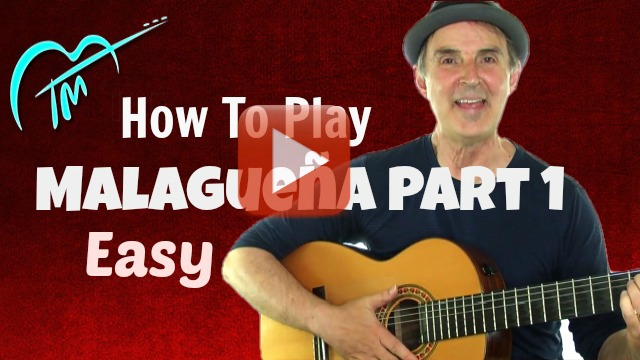 2.  Fingerpicking Patterns That Will Brighten Your Day
Along with learning several fingerpicking patterns, you get the opportunity to download a free cheat sheet that has a total of 19 fingerpicking patterns written out. This post is a must if you're interested in fingerpicking.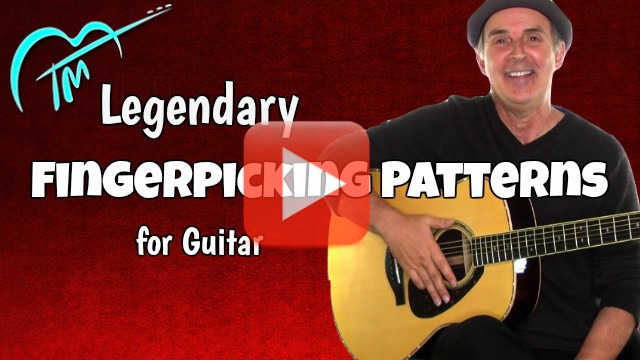 3.  How To Develop RHYTHM On Guitar And Play On Beat
To play on beat is a critical element of sounding good on the guitar. Unfortunately, it is elusive to many beginners. In this lesson I'm going to show you a step-by-step approach to develop rhythm, (in other words play on beat) without struggle. You will need to do a bit of work upfront but it will pay many times over. This is the lesson I wish I had when I first started learning guitar.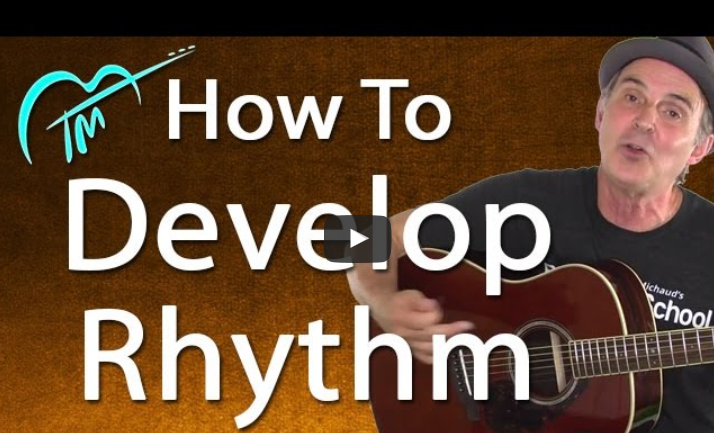 4.  How Chords Work Easy Guitar Theory Lesson
This easy guitar theory lesson will help you tremendously with feeling confident when playing the guitar. I found when I first learned these ideas it really opened up my eyes and helped me realize that there is a system underlying music.
Also, it will help you to learn new things on the guitar faster and more easily because you'll begin to see the patterns.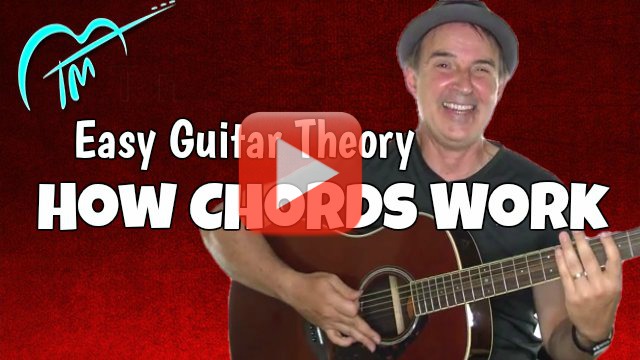 5.  Learning To Listen And Ear Training On Guitar: The Path To Awesome Guitar Playing
An important skill in developing your ability to play music is listening effectively.  That's why it's the first secret in my 10 Secrets to Playing Awesome Guitar With Ease.
One of the biggest revelations to me is that this is something that can be trained.  Early on I thought that one's ability to listen musically was determined genetically. In other words, some people had it and others, like myself, were out of luck.
Now after years of ear training classes I realize this isn't true. Yes, there are those that are more naturally gifted than others, but the difference is not as great as I once believed. Natural ability makes up a smaller portion of skill in this area while most is developed through training and practice.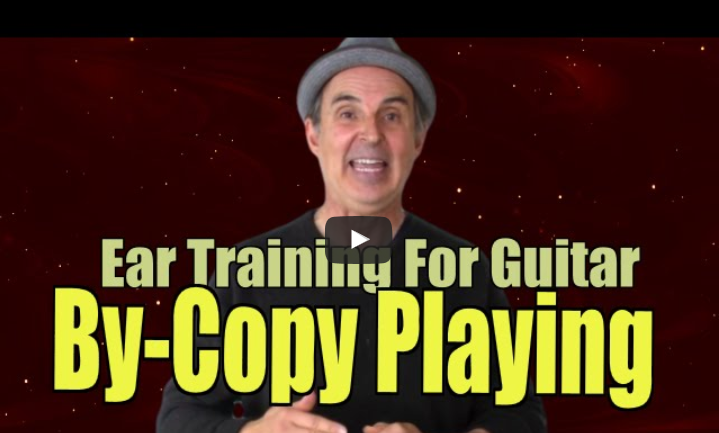 6.   Want To Supercharge Learning Guitar? Choose Chord Patterns Over Individual Chords
Being able to play chords is if not the most important thing very close to it when playing guitar. Chords are at the heart of playing rhythm guitar. Even if you're not ready to play fancy fingerpicking patterns or sizzling guitar solos you can have great fun strumming a few chords and singing along.
When I was a beginning teacher I used to spend a lot of time teaching students to finger chords. I'd even show my students a number of different chords and have them practice over and over…  taking the fingers off and putting them back on. I still think this is a good thing to do… but now, after years and years of teaching, I discovered what many beginning students will think of as a secret…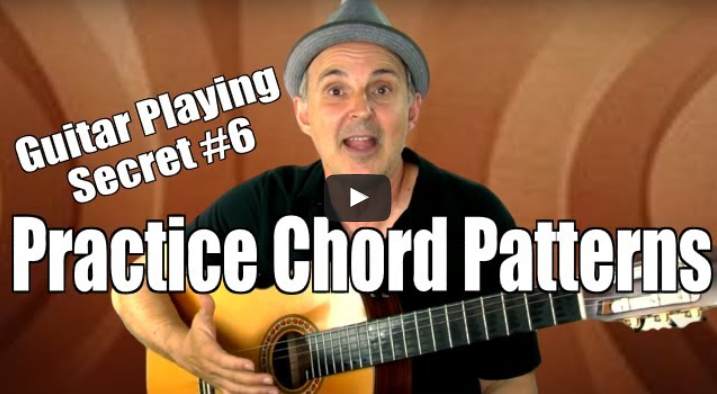 7.   Learn To Play This Easy Bossa Nova Guitar Rhythm
By popular request here is an easy bossa nova strum that you can use on either a nylon string guitar or steel-string guitar.
There are many different versions of the bossa nova rhythm. This is a fairly simple one that you can learn easily with a little practice.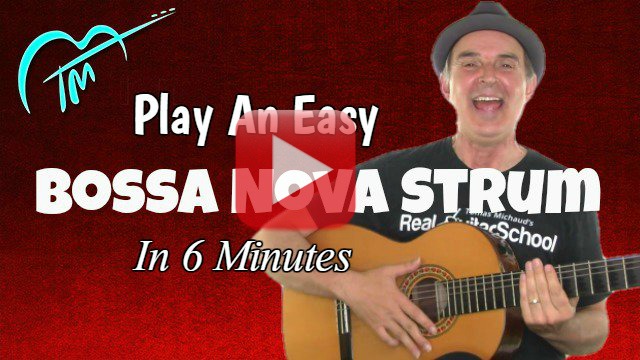 8.   Jazz Guitar Chords Progression #1
This is a fairly standard progression using jazz chords. The chords don't sound like much by themselves, but together with a groove, they sound great.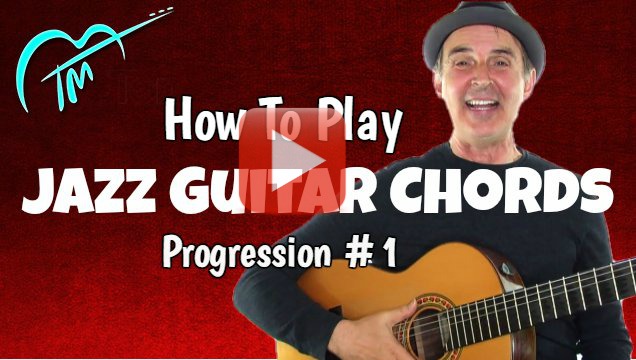 9.    Bar Chord Blues Shuffle Lick And Groove Guitar Lesson
I think you'll enjoy the shuffle lick that uses 2 common bar chords. You can use it on acoustic or electric guitar.
Be sure and download the cheat sheet I've included which has the chords and the rhythm written out.
If you're still struggling to bar chords I've even included a link to my lesson on how to master bar chords quickly and easily.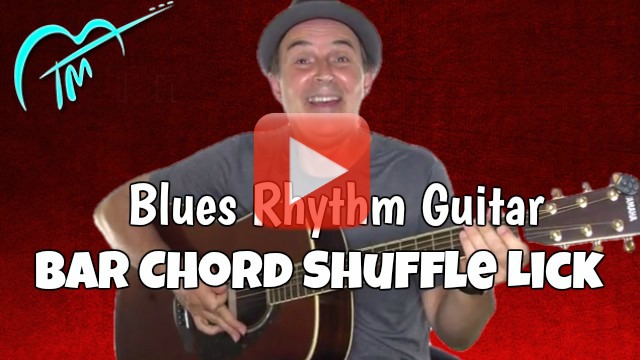 10.   Rumba Flamenco Strum & Barcelona Nights
And finally, a lesson that tugs at the very roots of my passion for music. I hope you'll enjoy giving it a shot.
One of my earliest influences, along with the Gipsy Kings, was Ottmar Liebert. More than anyone he inspired me to create, record, and perform my own original music.
I first heard Barcelona Nights, the song that propelled Ottmar Liebert into the public spotlight and on his way to guitar player fame,  while driving in my car. I remember it was early morning and it's the first time I heard Spanish guitar on the radio. I had already been exposed to Gipsy Kings and love the music. It reminded me of the wonderful trip I had to Spain and all the friends that I made there.
Tell Us What You Think – Please Comment Below!
We would love to hear your comments and questions. What specific things are you struggling with while learning guitar?