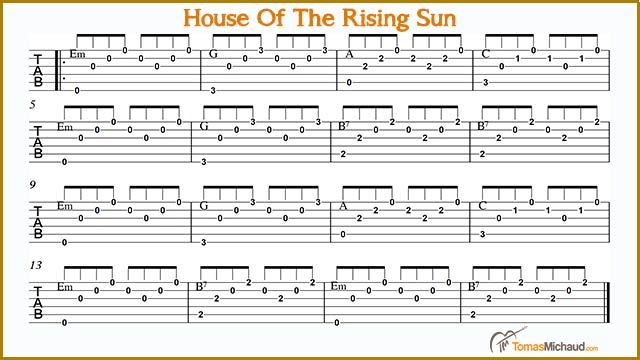 I was playing around on my guitar the other day I started playing the song House of the Rising Sun. It brought back memories for me… Some good and some not so good.
Song Memories…
I loved this song as a kid. The version I listened to was done by The Animals. I loved it so much that one day on the way to the movies with some friends I tried to shoplift the album from the store. I got caught. It was so embarrassing. I was hanging around good kids and they didn't do that kind of thing. They called my mom and I didn't get to go to the movies that day with my friends.
Looking back it's probably best. It may have deterred me from a life of crime. I never wanted to feel that kind of humiliation again.

Fooling Around
As I was fooling around on my guitar I realized that this song sounds good with a nice fingerpicking pattern. I thought it be a fun way to practice this pattern rather than just treating it as an exercise. I hope you enjoy it.
Simpler Version
If you're still learning these chords I did create a simpler lesson a while ago. You can find that at this link:
Guitar Chords for Beginners #14 – House Of The Rising Sun
[box] "Ah, music," he said, wiping his eyes. "A magic beyond all we do here!" ― J.K. Rowling, Harry Potter and the Sorcerer's Stone [/box]
Tell Us What You Think - Please Comment Below!
We would love to hear your comments and questions. What specific things are you struggling with while learning guitar?