[video_player type="youtube" youtube_hide_controls="Y" width="853″ height="480″ align="center" margin_top="0″ margin_bottom="20″ border_size="6″ border_color="#b8b8b8″]aHR0cHM6Ly93d3cueW91dHViZS5jb20vd2F0Y2g/dj1WcDlwal9iYXBlNA==[/video_player]
[vertical_spacing height="40″]
Download The PDF Transcript Here:
[vertical_spacing height="40″]
[file_download style="2″][download title="Learning%20Guitar%20Through%20Songs" icon="style1-Pdf-64×64.png" file="https://tomasmichaud.com/wp-content/uploads/2015/11/LearningThroughSongsvsExercises.pdf" package="" level="" new_window=""][/download][/file_download]
[vertical_spacing height="20″]
---
[fsb-social-bar facebook="true" google="true" twitter="true" pinterest="true" static="true"]
[feature_box style="28″ only_advanced="There%20are%20no%20title%20options%20for%20the%20choosen%20style" alignment="center"]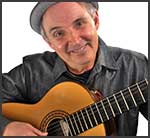 Tomas Michaud is an American born guitarist and music educator with a French Canadian heritage. He first developed the Starland Guitar System in 1982 when his 9 year old daughter asked him to teach her guitar.
Since then he's been helping thousands of students experience the joy of making music both through teaching or through his trained instructors. When he's not making guitar instruction videos he's creating beautiful music and currently has seven CDs of beautiful Contemporary Instrumental World Music including the latest top ten charting "Beauty and Fire".
[/feature_box]