A Night In Antigua…
Sometimes inspiration hits at an unexpected moment in time.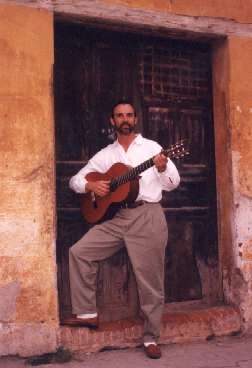 It was sunset and I was outside sitting on the stone steps of my small rustic apartment soaking up the last rays and atmosphere of Antigua. This beautiful Guatemalan city sits at the base of three volcanoes, and as the lights began to glow around the city people prepared for the evening.
As I continued to play, the electricity in the city failed and the lights suddenly went out (not uncommon in this rural town). As I sat in awe I proceeded to be dazzled by distant lightning dancing over the volcano peaks with the only illumination of the fading sunset.
This incredible juxtaposition of beauty and power inspired this song "Night in Antigua".
Download the complete song Night In Antigua from my "Passion Dance" CD below:
(To save a song to your computer, right-click and choose Save Link As to download the song to your computer.)
Passion Dance (title track)
 Listen to more songs or purchase the entire CD (physical or download) here: Passion Dance by Tomas Michaud
"This is one amazing recording that anyone who loves instrumental music with passion should definitely own." – Michael Allison, TheGlobalMuse.com